Celebrating its second year since its relaunch, the IWFM Impact Awards is designed to celebrate best practice and ingenuity from all areas of the FM sector
Formerly known as the IWM Awards, the event was rebranded in 2020, with the intention of emphasising the influence the FM industry has on the organisations it supports.
The IWM Impact Awards also aims to celebrate the people, processes and products that make a difference to the workplace experiences of millions of workers around the world on a daily basis.
It is now presented as having a global focus and entries are invited from all sizes and types of organisations from all areas and sectors. This year's presentation ceremony will once again be held at the JW Marriott Grosvenor House, London venue.
"Previously held as a formal evening, requiring black tie for men and evening dress for women, the dress code has recently been relaxed"
The awards have been developed from the Office of the Year Awards that was launched in 1971 to recognise the continuing development of the office as an efficient, safe and pleasant workplace. It was initially held on a biennial basis, before becoming an annual event in 1989.
This year also saw the first inclusion of an FM category, with the aim of recognising the levels of excellence in managing facilities and the provision of supporting services. Further introductions were delivered in 1992, including an Innovation category, followed three years later by the Green Award for those making significant contributions to address environmental issues.
The next major development saw the event rebranded as the BIFM Awards in 2001. It became the IWFM Awards when the institute changed its name, with the most recent rebrand occurring two years ago.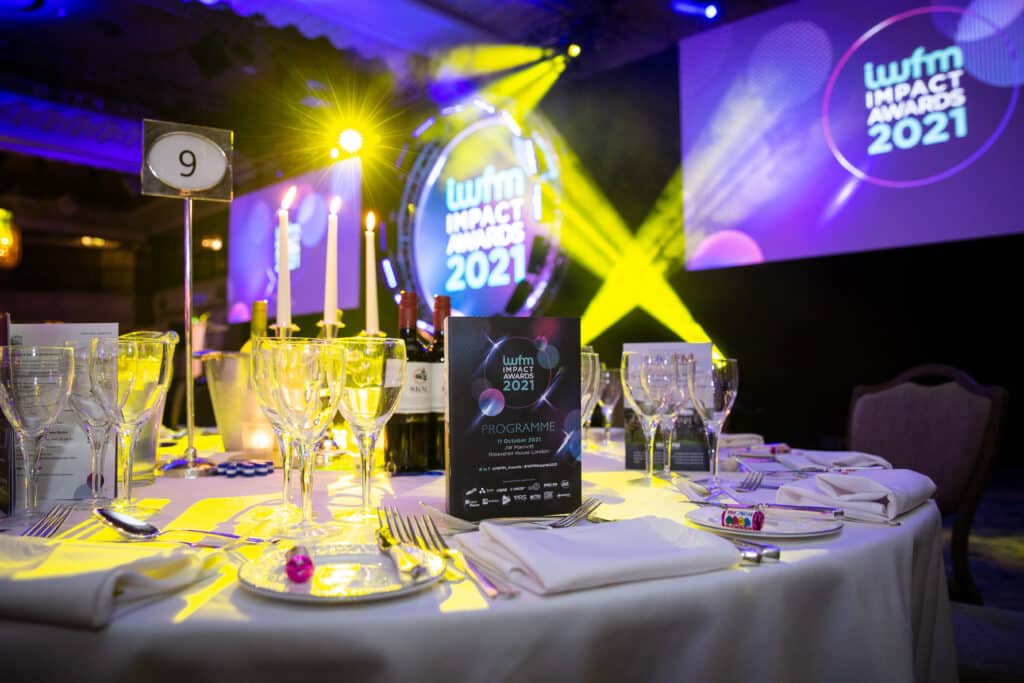 This year's ceremony will include comedian Zoe Lyons as the host of the evening, with guests arriving from 06.30 pm for the various drinks receptions. The presentation ceremony is scheduled to begin at 9.30 pm and the evening will close at 1.30 am.
Previously held as a formal evening, requiring black tie for men and evening dress for women, the dress code has recently been relaxed and is now "dress to impress". The organiser states that attendees are welcome to wear cultural dress, cocktail attire, lounge suit or business wear.
The awards in full:
Workplace Experience: Office/Corporate Environment
Creating a world-class Workplace Experience, CBRE, Atkins & Faithful and Gould
Three HQ – Project Empire, CBRE with Three
Future of Work programme, EQUANS & Experian
Creating Inspirational Environments, OCS & WSP
51 Moorgate, Skanska
Woodhouse Workspace
Excellence in Customer Experience
Chiswick Park Enjoy-Work
Eric Wright Facilities Management's Variation App
Mitie Mobile working with AS Watson
Change Management
Manchester Transformation, Eversheds Sutherland
Inspiring Change Through NPS, Mitie
Positive Climate Action
Decarbonising our Business and Client Net Zero, Bouygues Energies & Services Solutions
Fighting Food Waste Together, Johnson & Johnson and Sodexo
Net-Zero Carbon Accommodation Programme (NetCAP), Landmarc Support Services
Plan Zero, Mitie
Social Value
Security with a Social Mission, Corps Security
EHU Safe Learning Environment – Following a Fire at Asmall Primary School and Nursery, Edge Hill University
EQUANS Services North
Mitie's Social Value Framework
Social Impact Kickstarter Scheme, Pareto FM
Wellbeing
Putting wellbeing at its heart, 14forty
WSA (Wellbeing, Sustainability & Assurance), EMCOR UK
Grosvenor Year of Wellbeing 2021
The Northumbria staff Health & Wellbeing Centre, Northumbria Healthcare Facilities Management – Northumbria Healthcare Foundation NHS Trust
Wellbeing Excellence with OCS at Birchwood Park
PTSG Mental Health Support
Equity, Diversity and Inclusion Initiative
Increasing support for suppliers and promoting diversity, CBRE
Everyone Matters, Corps Security
Menopause Awareness Project – Kat Parsons, ISS UK
Count Me In, Mitie
Social Impact ED&I, Pareto FM
People Development and Talent Retention
Hemlow Improver Programme
The ISS Healthcare Training Academy
NHS Property Services
Portico Pathways & Employee Engagement
Product or Service Development
Scope 3 Emissions for FM – BAM FM and Acclaro Advisory
Parts Recycling Centre, City Facilities Management Holdings
KAUST Facilities Management Business Intelligence Dashboards (KFM-BI)
Technology
Reducing Energy Cost and Impact through Asset Management and our Helix IoT Platform, Arcus FM
Mo:dus Make Ready, Churchill Group
Internet of Things and Artificial Intelligence solution, City Facilities Management Holdings
Facade Access Solution for The Scalpel, Integral Cradles and GIND UK
Enhancing environmental control and energy reduction management in the heritage sector, The National Library of Scotland
Collaboration
Relocation Projects, CBRE, Atkins & Faithful and Gould
City and Asda Internet of Things solution
EVzero with Tesco, NatWest, LeasePlan, and more, Innovation Gateway
Enhancing environmental control and energy reduction management in the heritage sector, The National Library of Scotland
Collaboration between Wates FM and HMRC
Sector Breakthrough
ED&I Social Impact Initiatives, Pareto FM
MedicAir
Best SME Led Innovation
Carbon Numbers
Matrix Booking
LooLights – Smart Occupancy Systems, WhiffAway Group
Team of the Year
KAUST FM Operations and Building Management
Facilities Capital Development and Estates Operations team, Lancaster University
NHS Property Services Facilities Management Team
Portico at NatWest
Sainsbury's Group FM
Spectrum Service Solutions
Newcomer of the Year
Oladele Agunpopo, Pareto FM
Anthony Atkinson, CBRE
Jeremy Benford, Virgin Media O2
George Carter, Nomura International
Katie Wright, Northumbria Healthcare Facilities Management
Outstanding Contribution to Workplace and Facilities Management
Winner to be announced at the awards ceremony on the night.