Sometimes in business you have to be in the right place at the right time. That was the case for Jamie Dempster, when a chance meeting led to him mingling with American tycoons at a five-star hotel conference in Cyprus.
A straight-talking and hardworking Yorkshireman, he went into general contracting and left the region to work in other parts of the UK at a very young age. Mr Dempster later took a job as a project manager with a large contractor working reasonably locally to his birthplace before the opportunity arose to start his own business in 2006, but this venture was to become a victim of the 2008 recession in what were some of the darkest days of his career.
Mr Dempster says: "It was a great shame because we'd won awards and broken records, but when you have to go through putting your business into administration, nearly losing your house, and all the stress that comes along with it, you just get to the point where a human being can only face so much."
But it wasn't long before the encounter that was to change his life. "I was introduced to this guy from Canada, who was an old school friend of a colleague many years ago when they lived in East Yorkshire," says Mr Dempster. "This childhood friend, who had relocated with his family in the 1980s, was now managing a company called Fibrwrap Construction in Canada. At the time, the owner of the business was an American group, and they already had some offices in Europe in strategic countries, but they were looking to expand as part of a growth plan.
So, we got chatting and I was invited across to meet some people over in Cyprus in 2009. And I got really excited by the concept and the prospects of it."
"We design, supply and install composite strengthening systems – we are the only one"
"And then a few months later I was at this massive corporate conference in Cyprus, shaking hands with these wealthy Americans and meeting people from Asia. And then I had to present a business plan to the owners at very short notice. It was about 4pm, and I'd been at the beach and had a couple of beers. I got a message to say they wanted to meet me at 8pm, so I had to get myself organised pretty quickly. About four weeks later I was in the European office in Athens, sitting in this big boardroom surrounded by legal and share ownership documents. In the space of six months, I'd gone from refurbishing a nursery to being part of a global company. I sat there and I said to myself, 'how the hell did I get here?'"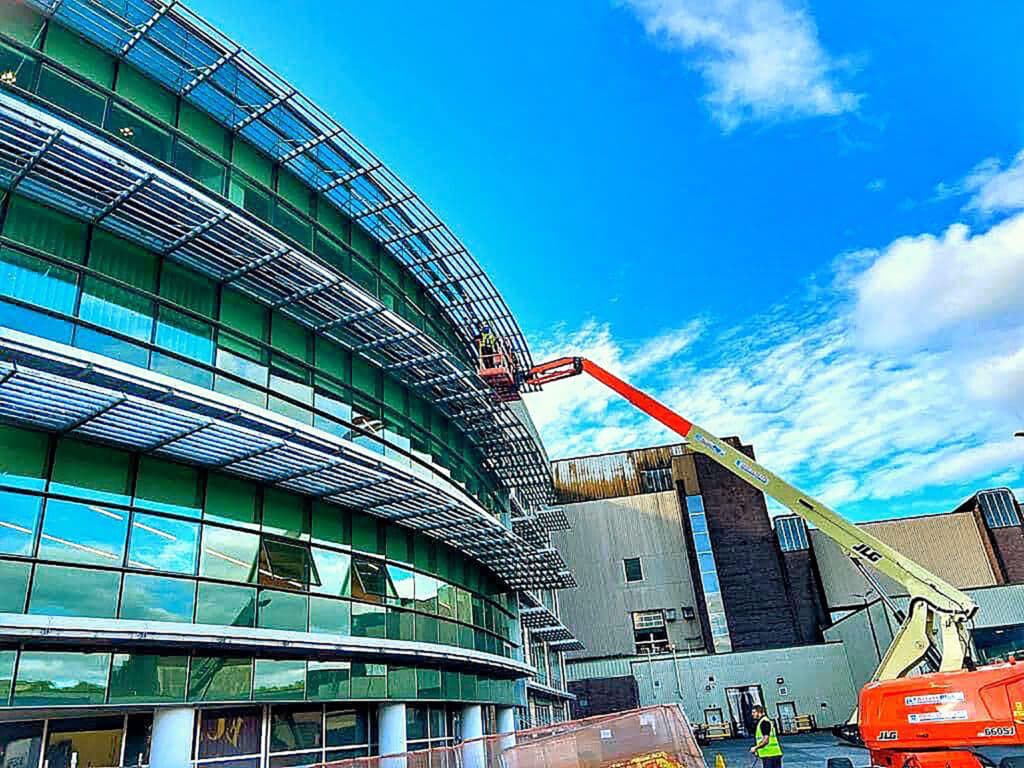 Base of operations
Mr Dempster was faced with a blank slate – and, while the bulk of the work was down in London, he feels the decision to keep the headquarters in his hometown was a wise one. "I employed people from Yorkshire, so I created jobs and apprenticeships and contributed to the local economy. There was nothing in place when I started – the only thing we had was my experience, as I had quite a wide range of construction experience in a few of the sectors we work in now, and a few years' experience in running a business.
"The very first thing we had to do was bring in a technical salesperson, because it's a technical 'sell'. You need a structural engineer to sell to structural engineers, and I couldn't do that.
"So, the very first thing as a business we agreed to do is to recruit Jayesh Nandwana from Sheffield Hallam University – he is still with us today, as the technical director now, and he does an amazing job."
There are other companies out there that do some of what CCUK does – but it is still the only "full-service provider", as Mr Dempster explains. "We design, supply and install composite strengthening systems – we are the only one. And, as a company, I believe that we have single-handedly grown the market because when we first started in 2010, it was very, very tiny and very, very different from what it is today."
CCUK's major route to market is through structural engineers, not the owners of structures. "We go and meet the structural engineers, one-on-one or in a group format, and we educate them on the capabilities of composite strengthening. And once you've given them a basic understanding and they see the advantages, they're then more inclined to specify or recommend. And then our eventual customer, the one who pays the bill, is the local authority, the main contractor or the asset owner."

Looking ahead
This £3 million-turnover business employs fewer than 20 people across the UK, but Mr Dempster has ambitions for growth in the next three to five years, having last year launched a concrete repair division alongside the original composite strengthening arm. "You don't need a lot of people and a lot of equipment to be able to do the work, which is one of the advantages. We've got just five vans, and they take the equipment with them, do the work and then they come back – we don't need a massive team of people behind us. We have to stay very lean, as what we do can be expensive, so we have to remain competitive and have good people who can do the work very well and very quickly. In the repair business, we pride ourselves on doing the difficult jobs that nobody else wants to do – for instance, we recently delivered a structural survey project on the south bank where we had to swing from ropes underneath a concrete fuel jetty."
This presents a challenge to recruitment, Mr Dempster admits – especially among the younger workforce. If he could have done anything differently in the past decade, he would have focused more on bringing in a new generation, he says. "You don't think about it until you need people and then when you need them, they're not out there. The older generations don't want to do what we do, and the younger generation just want to be YouTube stars!"
It is a generalisation, of course, but said only partly in jest; it is a situation that employers across other sectors will no doubt be familiar with – but on the positive side, this means there should be opportunities galore for young people wanting to enter an innovative industry and are prepared to work hard.
"We've recently added lots more tools to our toolbox," he says. "We are morphing into a business that is more similar to others – but that's because we want to. So now we're offering specialist services such as concrete repairs, crack injections, spray concrete, specialist coatings, which is probably more suited to businesses and infrastructure.
That's what we're focusing on – the composite strengthening would really be an added bonus."
The fact CCUK feels local, as well as the inherent environmental credentials, while working nationally, makes it a win-win, adds Mr Dempster. "We've got an offering that might be different. With what's going on with the drive to net-zero, I think people do have to look at their ageing infrastructure and ask themselves, is it worth keeping? Is it costing them money or the environment and, if so, what can we do to improve it? You need to have somebody on hand to look at these things for you and give you options."

Safe hands
Mr Dempster still looks after the day-to-day running of the business, while keeping abreast of competitors and the almost constant influx of new products into the market "I get a lot of people from Asia messaging me on LinkedIn to ask me if I want to buy carbon fibre from China," he says. "It's a huge market in Asia and there's a lot of people that are selling materials, but we still remain true to the main suppliers that we know and trust and that have been through years and years of extensive testing."
When your business is founded on structural stability, there is no room for cutting corners. And with CCUK's specialist contractors on board, it is clear that buildings will be in safe hands.
More information can be found here:
fibrwrap-ccuk.com/