YorPower and PPSPower are partners in the delivery of a full range of back-up power solutions for customers UK-wide and internationally.
PPSPower is best known for providing reliable maintenance solutions for both generators and UPS units. YorPower operates nationally and internationally to manufacture, install and commission generators to provide back-up and prime power solutions for its wide-ranging customers.

The two companies are now reorganising their business structure and premises to offer a far more efficient service, which aims to capitalise on the steady growth both have experienced in recent years. The prospect is exciting both for existing customers and potential new customers looking for reliable back-up power solutions of any kind. And that could be anyone in the UK or overseas!

Unified for greater power

All areas of the business now work together from the company headquarters in West Yorkshire, offering a unique combination of experience, technical excellence and nurtured apprenticeship talent to deliver:
Generator sales, servicing, repairs and installations
Uninterruptible Power Supplies (UPS) sales, servicing, repairs and installations
Planned Preventative Maintenance (PPM)
24/7 Call-out
Stephen Peal, formerly the managing director of PPSPower, is now group managing director of the YorPower, PPSPower, Glenace and Generator Warehouse businesses. "This reorganisation is the next logical step in the group's progression. We will now operate as a much more unified entity with all parts of our business combining to offer complete generator and UPS solutions for all customers in all sectors, wherever they are located globally," he explains.

"The common thread that runs throughout the different areas is our partnership approach: we work collaboratively with our customers to understand exactly what they need so that we can deliver a solution that exceeds their expectations. Now we are applying that same approach within our group of companies. All our staff, from CEO to apprentice, will be part of the one family approach to exceptional service."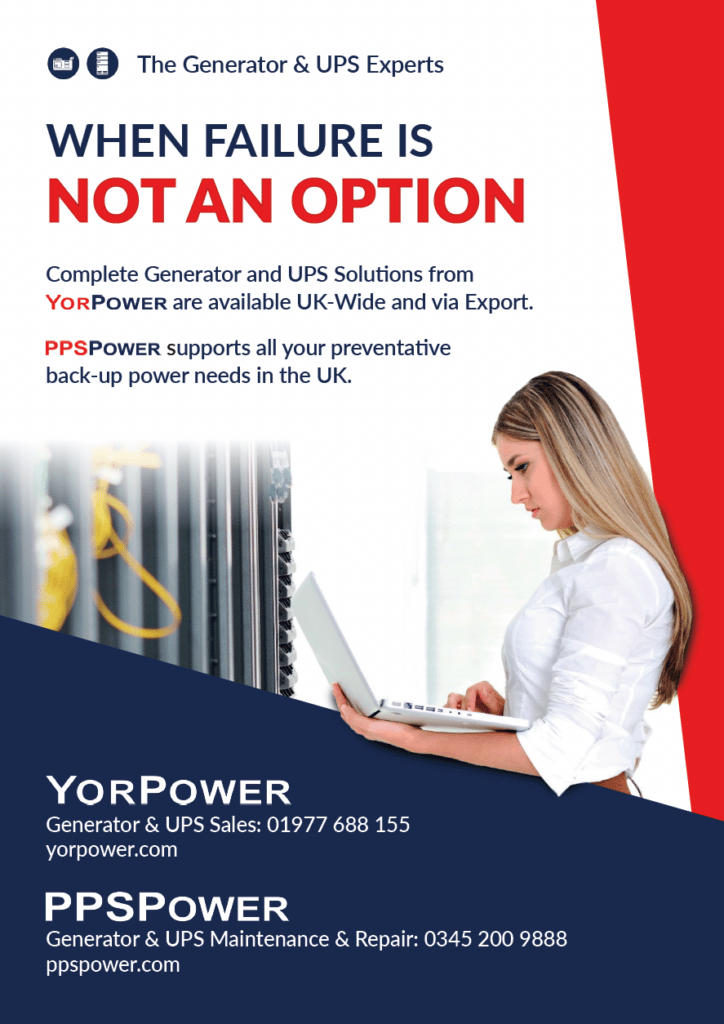 Becoming net zero

Like most other responsible, forward-thinking companies, PPSPower and YorPower are aiming to be net zero long before the government deadline of 2050. Stephen Peal has recently teamed up with neutral carbon zone, which helps organisations take an expert look at their sustainability agendas to see how they can slash their carbon footprint in ways they may not have expected.

Increasingly, customers and employees want to work with companies that demonstrate a commitment to becoming carbon neutral. The message from the YorPower group of companies is "watch this space," as they will soon be announcing a new future-proofed model that will focus on meeting or surpassing their environmental, social and governance objectives.

The UK and beyond

Emergency back-up power continues to grow and thrive as an industry as more organisations are built around 24/7 service. Even a momentary break in power can be disastrous. For healthcare providers, lives can literally depend on a reliable supply of continuous power.

Most emergency power systems are based on diesel generators, but these can take a few seconds to kick in. Uninterruptible Power Supply (UPS) units are an additional method of ensuring continuous uninterrupted power for businesses, which is crucial for critical environments.

UK-manufactured and assembled equipment is still extremely sought-after and the export market is going from strength to strength. "With grid infrastructure across Asia and Africa being incredibly unreliable, more and more clients are looking to YorPower for reliable back-up power solutions," explained YorPower's export manager, Jordan Kincaid.

Working as a complete provider of back-up power solutions, YorPower and PPSPower have a customer base both in the UK and overseas that continues to increase. And with the recent reorganisation for increased efficiency, that future looks bright.