Offering adaptable and modern office space in central Reading, The Blade combines this with a strong focus on sustainable FM operations in all areas
The Blade is a high-rise building and the tallest in Reading, Berkshire, standing on a site near Forbury Gardens on the eastern edge of the town's commercial centre.

Owned and managed by Northwood Investors, the facility offers modern office space and at 86m (282ft) tall is visible from a wide area.

The building initially applied for planning permission in 2001, with construction beginning in 2007 and leading to project completion in 2009 at a cost of £32m.

It has a central steel core and 14 floors above ground level, with a floor-to-floor height of 3.77m (12.4ft) and provides a total area of 110,000 sq ft for office use. The building's façade is a curtain wall system of aluminium and glass and The Blade is strengthened with a pile foundation.

One of the most notable features of the facility is the spire that sits on top of the building. This has been constructed using a lattice frame covered with rainscreen panels and makes the overall height of the building 128m above ground level.

The name of the building is attributed to its distinctive spire that dominates the upper portions of the design. The Blade was created by Sheppard Robson Architects and was designed for PMB Holdings and Aviva Investors.

Northwood Investors asset management director Nick Turner explains to FM Director that the building was acquired in 2018.

"We had to rectify a few faults and upgrade some of the systems, which took around two years, and then Covid hit," he says. "But we're now in a good place and it helps to have a good team around us."

Like many facilities, The Blade introduced more fresh air into the building and implemented specialist cleaning operations to reassure occupiers that it remained safe to work in throughout the pandemic. But that's all more or less finished now and the focus of our customers has moved on," says Mr Turner.
There are considerable efforts devoted to ensuring that the facility provides a high degree of support for its occupiers, which has seen it become a key part of the wider business community.

"Communal space, break out areas and business lounges provide the perfect networking opportunities for occupiers to meet with one another, share ideas and build long-lasting working relationships," Mr Turner continues. "Events, charity fundraising and social gatherings create positive interactions and help to create and cement a feeling of collaboration."

The community spirit is supported by the presence of an on-site landlord providing a central point of contact for all occupiers.

The Blade team also works closely with the two Reading Business Improvement Districts (BIDs), The Chamber of Commerce, Reading UK, the local council and various arts and community groups to create a broader network of connections and partnerships.
Other projects are encouraged and in 2022 Reading College student John Browning, who is studying for a diploma in Art, Design and Communication, chose The Blade as the backdrop for a new filmography project. Mr Browning wanted to capture the movement of people using the facility's lift in a candid way, and spent a week on-site talking to some of the occupiers as they used the lift to ask about their experience of working in the tallest building in Reading.
"His film shares some of their stories, against the unique perspective offered by The Blade's external lift. As an iconic office building in a vibrant business area, The Blade has a role to play in encouraging inward investment to the town and supporting high growth businesses that need flexibility and space to expand on demand," says Mr Turner.

By having a Pure Offices business centre within the building, The Blade is able to to provide a supportive 'incubator' service to new start-ups, which frequently helps them enjoy rapid growth while avoiding the iterative impact that multiple relocations can create.\

Room for all
The Blade is currently running at 92% occupancy and Northwood Investors aims to have space always available so that the facility is able to offer occupiers the opportunity to move and grow within the building, which many have done as their business has expanded. The current list of occupiers includes Kaplan, Occuity, Altitude Angel, Pure Offices, Urban Science International, Signant Health, Barton Wilmore, Brandview, Gleeson Recruitment Group, Hays Recruitment, Falanx Group, CMS and Megabuyte.

Discussions are regularly held with both existing and potential occupiers and Mr Turner states that negotiations are continuing with companies that will see the facility reach 100% occupancy in the near future. Hybrid working strategies are being implemented, adapted and further adjusted by many of the facility's occupiers.
In order to assist with these, The Blade offers secure 24/7 access for all occupiers with the intention of enabling staff to work according to each company's agreed agile working policy.
From a technology point of view, the building achieved Ewave Telecoms 5* certification in 2021, which means it offers reliable and effective telecommunications connectivity to support all forms of working, including virtual meetings to enable teams to collaborate from different locations.

An eco-friendly space
Access is also provided to flexible office space through the Northwood Investors partnership with Pure Offices which allows occupiers to upsize and downsize as required, flexing the amount of space needed depending on the working patterns of the business.

Mr Turner confirms The Blade has a strong commitment to offering an eco-friendly space, further supported by access to sustainable transport choices in the local area.

"We only have a small footprint for the building, so there's not much chance to install renewable energy solutions, but we continue to work closely with Hemlow, our HVAC contractor, to monitor energy use and reduce this wherever possible," says Mr Turner. "They provide a resident engineer who looks after all the plant and equipment and we receive a report every fortnight on the use of timers and controls so they can be adjusted where needed."

Further to the above, Elite Security staff are also encouraged to use the Hemlow helpdesk to notify the company of any issues identified during their rounds. Northwood Investors also plans to install LED lighting throughout the facility to deliver further reductions in energy use.
It partners with E2 Services for the procurement and management of its energy requirements. This helps to reassure occupiers that it is devoting considerable attention to reducing energy consumption wherever possible, which is one of their main areas of focus.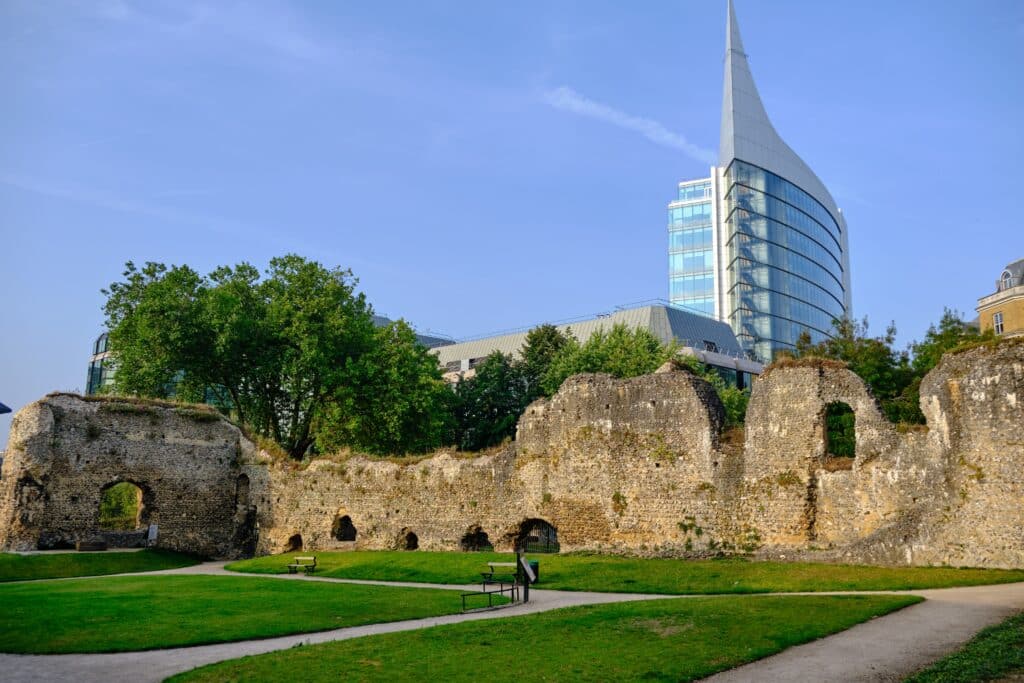 This year has additionally seen the installation of six new electric vehicle charging points for use by occupiers.
The company reports that these have proved popular with occupiers, who are able to access the chargers through a simple recharge programme managed via an app.
"We're also looking at replacing our chillers, which are nine years old, within the next two years and this should see further energy savings when more modern alternatives are installed," says Mr Turner.
The Blade facilitates a range of sustainable transport options, including the Reading mainline station, which is located within a five-minute walk of the facility. This includes access to the recently opened Elizabeth Line that provides reduced travel time into and across Central London.

Improved links for cyclists
Reading has additionally improved its support for cyclists and the facility is within the town's 37-mile network. The building also has cycle storage, shower rooms and changing facilities for those choosing to cycle to work.

The Blade currently holds a BREEAM Very Good rating and an EPC Rating of (C) 75. It is additionally continuing to work on its own plan to achieve carbon net zero and will share the details of this when agreed with all stakeholders.

"Many of our occupiers are building sustainability into their business plans, including zero carbon, environmental social governance (ESG) and sustainability, with lower emission targets a key priority."

Another option that is continuing to prove popular with occupiers is the ability to lease fully furnished offices. "We find that customers are often happy to pay a premium for this, which allows them to relocate with the minimum of fuss and interruption to operations," he says.
"This can include the installation or removal of internal partitioning, rather than structural alterations, so can be reasonably quick and easy to complete," Mr Turner concludes.