Hull-based Magiccote offers total commercial cleaning solutions for customers in East Yorkshire and beyond.
70 years of passion and professionalism have seen the company evolve into a state-of-the-art operation, counting names such as Hull City Council, McDonald's, Mitsubishi and Howden's Joinery among its client base. Magiccote leads the way in its sector by combining the very latest technology, such as ultrasonic equipment, with a customer-led approach – including 24/7 emergency call-out. This offers valuable peace of mind, knowing that expert help is always on hand.

Ultimately, the emphasis is on developing and delivering the right solution for each customer's unique building or workspace. Led by directors Adam and Ian Carrison, the business's expert team cleans everything from industrial facilities and professional kitchens, to offices, floors, drains, and commercial vehicles.

"Communication is key, and we ensure that we keep a dialogue going with customers prior to, during, and after every clean," Adam explained. "It's all about providing peace of mind and building strong relationships, as well as delivering excellent service."

Magiccote is now a leading provider of commercial window cleaning services, using deionised water to achieve professional, streak-free results. Its trained technicians rely on water-fed poles, which enable them to clean up to six stories without ladders or access equipment. This safer, more cost-effective approach is suitable for a range of buildings.

The CHAS-accredited company also specialises in industrial cleaning, tailoring solutions to suit its customers' facilities and production schedules. Its industrial services range from high-level cleaning and ducting inspections, to pressure washing, machine cleaning, and fire and flood damage clean-ups. The priority is always keeping workspaces clean, safe, and operational. It takes a similar approach to office cleaning, offering a range of schedules and services to suit customers' needs. Regular inspections ensure that standards remain high, whether its team is carrying out fortnightly deep cleans, or daily visits.

Magiccote's kitchen cleaning service recently benefited from a significant investment in state-of-the-art ultrasonic equipment. This technology enables it to clean extraction hoods, canopies, and ducting to TR19 standards – something required by most insurers.
"Without cleaning services, a business cannot move forward," Adam commented. "They keep workplaces safe and compliant."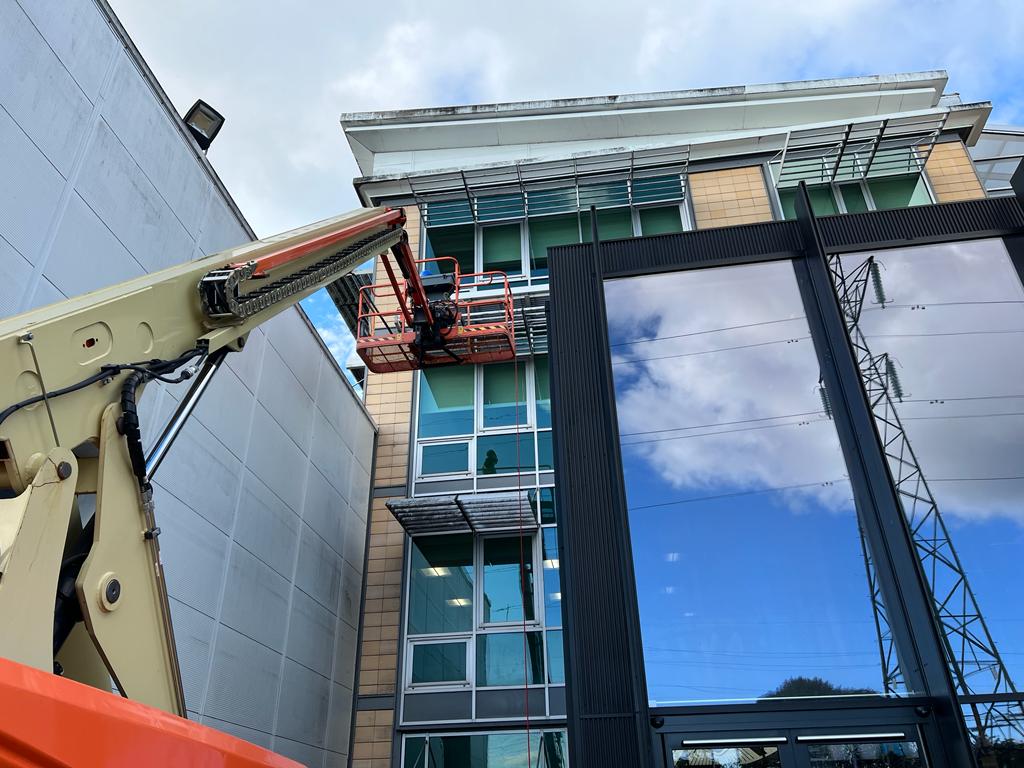 Investing in people and equipment
Magiccote's drain cleaning service is a case in point, helping to identify and clear blockages before they lead to serious problems. Its operatives can also clean external or internal floors, using state-of-the-art equipment to achieve a safe and professional finish.
Adam is committed to investing in, both the latest equipment, and Magiccote's team of experienced technicians, who receive regular onsite training.

"Our employees are our greatest asset, and it's important that they remain safe and empowered," he added.

Magiccote holds a range of industry accreditations, and is ISO 9001:2008 GB12218 compliant. Its commitment to operating accountably and safely means that customers can have confidence in their clean.

It also takes its environmental responsibilities seriously, using the 'Spotless Water' network, and ensuring that cleaning poles are fitted with 'aqua-stops'. It plans to switch to a fully electric fleet in the next five years.

Adam and Ian are now looking to the future, with new branding and a streamlined new website due to be launched shortly.

"We have enjoyed steady growth over the last several years, moving to a new facility in 2020. Going forward, our focus is providing excellent service to our growing customer base, and responding to their changing needs," concluded Adam.

For more information, visit magiccoteuk.co.uk