There are a seemingly infinite list of maxims outlining the reasons and benefits for establishing positive relationships in all walks of life, including both personal and professional activities, and the latter is a regular theme within FM Director magazine.
The practice of forging mutually supportive connections has been identified as one of the best means of delivering successful business development plans and proof of this can be seen within the majority of the case study articles published to date, with more due for publication in the months ahead. This is particularly apparent in the close working relationship between The Francis Crick Institute (The Crick) and Principle Cleaning Services (Principle), due to many positive contributing factors.
Principle operations director Victoria Jaramillo played a leading role in her company's presentation for the tender nearly four years ago and states that it was immediately obvious how things were done differently at The Crick: "As we walked in we felt a connection with everyone, especially with Michelle, who was very welcoming."
The Crick's cleaning provision is managed by soft services FM Michelle Lappin, who confirms she was equally impressed with the Principle team and its presentation: "We always say how supportive we are towards everyone and that was particularly easy when we met the Principle team, who were clearly the ones that were most interested in working with us to achieve the best outcomes for everyone," she says. "They took the time to learn about The Crick before presenting and we felt very comfortable when speaking to them from the start."
Awarded in 2019, the contract requires the company to provide daily office cleaning, porterage, pest control, hygiene services, window cleaning and plant maintenance.
Having made a positive start to the delivery of the contract, the partners were then faced with dealing with the impact of the Coronavirus pandemic and the disruptions it caused throughout UK society. The effects at The Crick included the suspension of all non-essential activities to allow its efforts to be turned to the focus of creating a vaccine to combat Covid-19.
Principle account manager Hugo Brito has led the on-site team throughout the last four years and says: "Because the building was being used by a lot of people throughout Covid, we continued our services, too. You could see some people were very nervous about the situation, but it was really good to see how many of them appreciated seeing our colleagues cleaning everywhere and all their efforts to keep everyone safe.
"We also saw how our team responded to this so positively, because it really lifted their spirits and gave them a lot of satisfaction that they were doing something valuable," he says.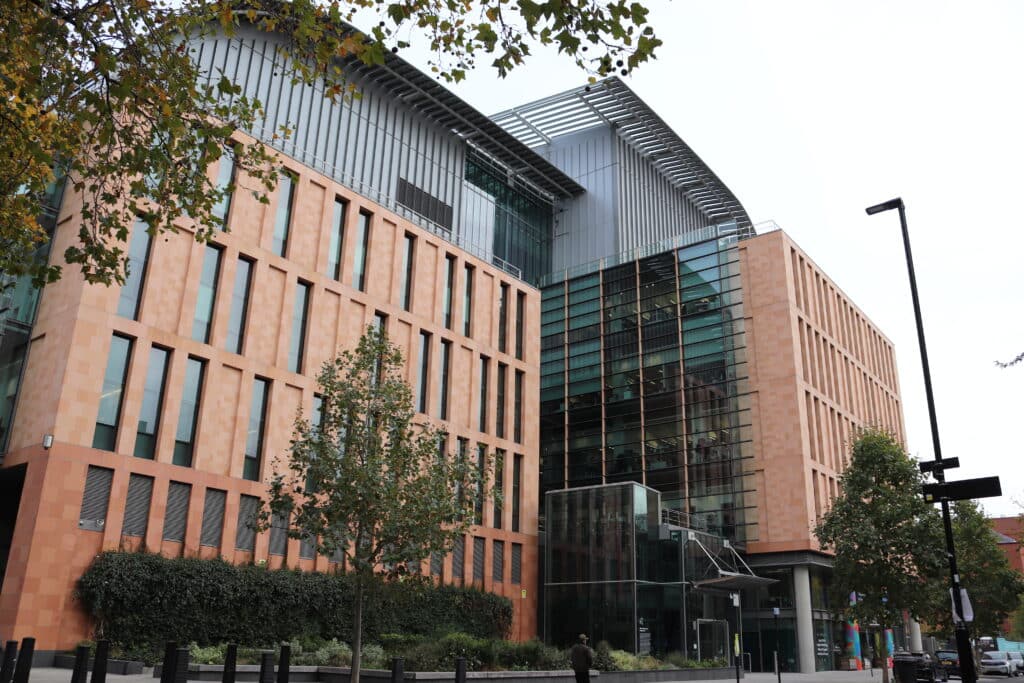 "The car park alongside The Crick was turned into a testing centre, as well, and with scientists continuing to attend the building our team then quickly turned to supporting all the new developments," Ms Jaramillo continues. "This was while everyone was trying to deal with all the other things happening around them at the same time due to the pandemic."
Following training with the NHS for its on-site team members, Principle continued its support for The Crick and the neighbouring NHS swab test pods and vaccination centre. It established an Amber Cleaning service using the skills learned at the training sessions to deliver the actions outlined above.
Both Ms Jaramillo and Mr Brito share examples of how their colleagues increased their efforts to support others throughout the most demanding times of the pandemic, including the provision of meals to colleagues working at The Crick by team members living in the Kings Cross area. Additional evidence of the caring nature of The Crick is shared by Ms Lappin, including inviting police officers into the building "because all the other places they could usually get food and drink in the local area were shut".
These instances are further proof of the close alignment of culture between the two partners which has helped to establish the award-winning relationship. Not only is Principle an accredited Living Wage service provider, its staff also have access to mental health first aiders, benefit packages and personal development plans that have seen its employee retention rates remain at high levels.
The institute is the largest biomedical research centre in Europe and is itself the result of a unique partnership between Cancer Research UK, Imperial College London, King's College London, the Medical Research Council, University College London and the Wellcome Trust. It is named after renowned scientist Francis Crick, the co-discoverer of the structure of DNA, who won the 1962 Nobel Prize for Physiology and Medicine with James Watson and Maurice Wilkins.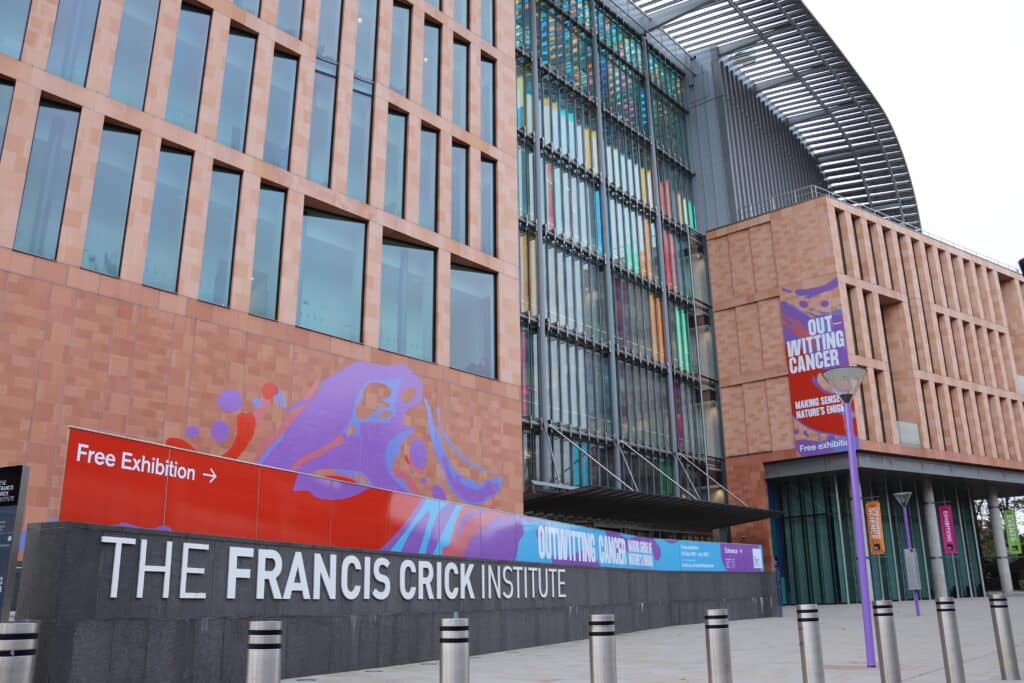 Due to the highly specialist nature of its work, The Crick has a number of specific needs that require its service partners to work with more care and attention in many areas. While its central London facility has features such as reception, restaurant, office and breakout areas similar to those in commercial premises around the UK, its extensive laboratory and testing areas include limited access and state-of-the-art equipment that require high levels of care and attention to ensure they remain productive and efficient.
There are more than 60 different lines within the recycling process, for example, that include a range of materials and equipment from the more general paper and plastic, up to the various items of scientific equipment that is steam cleaned at 150 degrees Centigrade to remove any contaminants before being processed further.
"From that first meeting, setting everything up when we won the tender, then dealing with Covid and all the various changes and getting everything back to normal, we've sensed a special connection and a lot of that is down to Michelle and the way she works," Ms Jaramillo continues. "We also have a lot of confidence within the team and my colleagues that we can start to work in other scientific and medical facilities.
"There are a lot of experiences and lessons learned from The Crick that we can apply to other specialist work areas. We'll obviously use these to gain more work for ourselves but we'll make sure that we continue to work as closely with any of our new clients as we do with The Crick and all our customers to help them as much as possible," she says.
Innovations have followed the initial contract over the last four years, including access by all parties to the company's bespoke PCS Hub platform to record and view all relevant management information. This ranges from certificates of compliance to staff training records and work schedules, with the data then used to support strategies in the future. A range of on demand data is also available to anyone showing washroom usage, vertical drop marking and lab coat laundry data.
"Another area where we work closely with Principle is sustainability and we've made some great progress here, too," Ms Lappin continues. "We're now using far less chemicals for cleaning, as well as saving water and improving our recycling levels."
Responsible procurement methods have additionally resulted in the inclusion of plant-based and cruelty-free consumable products on site, many of which are manufactured within the UK from recycled materials. With 99% of cleaning products now classed as chemical-free, the small percentage of chemicals used are all Ecolabel approved.
There are high levels of awareness of the need to reduce carbon emissions within The Crick and Principle is supporting this through the introduction of a range of co-botic cleaning equipment, which has increased productivity while reducing electricity and water consumption. Use of washrooms are also monitored, allowing the company to provide needs-based cleaning, with the data incorporated into the PCS hub.
The Crick also uses its cleaning partner's Drop Marking solution that provides a graphic of the building and shows the progress of work in real time through the online portal.
Following the sustained efforts of both partners to maintain and develop collaborative working, last year saw the partners winning the PFM Partnership Awards 2022 Partners in Cleaning trophy. Prior to the announcement in November, the Principle housekeeping team was presented with the Supports World Class Service accolade at The Crick's annual awards ceremony in October 2022, voted for by Crick employees, and also The Golden Service Awards 2022 for offices over 300,000 sq ft.
"We were really pleased to see the team win their World Class Service award, because it shows that The Crick appreciates their efforts and all the hard work that goes into supporting them," Mr Brito continues. "You can see team member pictures included with all the others at the entrance to the building, placing them alongside all the other people who work here."
Collaboration and support are both embedded into the culture of The Crick and this has been a major factor in allowing Ms Lappin to enjoy high levels of work satisfaction throughout her years of employment there. "I'd like to think I can continue working here for many years, as it's one of the best places I've seen.
"It very much feels that my previous work experience has led up to The Crick and I'm really pleased that I didn't work here at the start of my career, because I think I'd have struggled to find somewhere that met my expectations," she continues. "A big part of that is working with Hugo, Vicki and their team and we'd all like that to carry on."
Having established an award-winning partnership that continues to see all team members relishing their daily routines and challenges, it seems highly likely that further advantages will emerge through the joint efforts of The Crick and Principle. Ms Jaramillo's belief that her company's achievements are already providing significant opportunities for new contracts also seems very likely to come to fruition in the near future and the FM Business Daily brand will look forward to reporting on these developments.