The latest changes to fire and building safety legislation – the Fire Safety (England) Regulations 2022 – came into force on 23 January 2023. Implementing the majority of the recommendations made to government in the Grenfell Tower Inquiry Phase 1 report, the legislation focuses on high-rise buildings and the duties of the 'responsible person' and includes a clear focus on the importance of fire doors in maintaining building fire safety.
Here I explore what you need to know about the legislation's requirements when it comes to fire doors.
Where does the legislation apply?
The new legislation applies to existing multi-occupied residential buildings that contain two or more sets of domestic premises, and it sets out to improve the fire safety of high-rise buildings such as blocks of flats and student accommodation.
The new rules apply to the communal parts of the building such as corridors and laundry rooms, as well as entrance doors to flats, internal walls and floors and external walls.
The Fire Safety (England) Regulations 2022 were introduced under article 24 of the Regulatory Reform (Fire Safety) Order 2005 and are focused on the role of the responsible person. For blocks of flats, this could be the person who has control of the premises via ownership or freehold, or it could be the managing agents for the block or a residents' management company.
Although the term 'responsible person' seemingly refers to an individual, it's important to note that it could also refer to an organisation.
The fire door responsibilities of the responsible person
Fire doors play a crucial role in the fire safety of the building. Their ability to hold back smoke and fire allows residents to exit the property, and emergency services to enter it.
The new legislation has a clear focus on the role of fire doors within high-rise buildings and in regulation 10 there are two key areas that the responsible person needs to be aware of:
Information for residents
The responsible person is required to ensure that all residents are aware of important information. This includes the fact that that fire doors should be kept shut when not in use, that self-closing devices installed on fire doors should not be tampered with, and that residents should report faults and damages immediately to the responsible person.
A new resident should receive this information as soon as is reasonably practicable after they move into a building and it should also be regularly communicated to all residents at least once a year.
The second area the legislation provides updates is surrounding fire door checks and inspections. These are crucial in ensuring that a fire door is fit for purpose throughout its lifespan and that any maintenance needs are quickly identified and addressed.
If the top storey of a building is above 11m in height (approximately four storeys) the responsible person should use their 'best endeavours' to check all flat entrance doors at least every 12 months and conduct inspections of fire doors in communal areas at least every three months.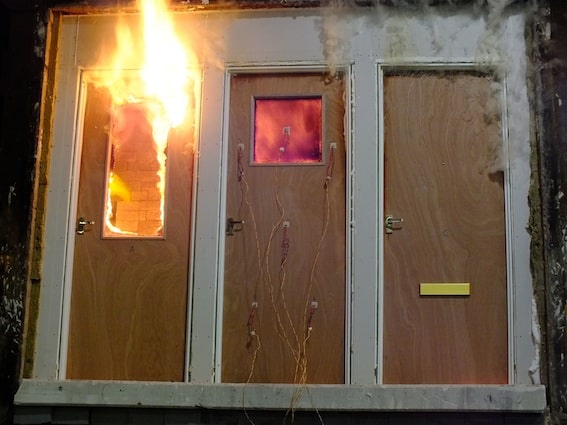 The government guidance states that the checks should be simple and not require a specialist to carry these out as the inspections are visual and do not require any tools. The checks should include ensuring that the self-closing devices are working, looking for potential alterations to the fire door, obvious defects or large gaps around the door and should confirm that vital components such as intumescent strips are present and undamaged. The government has also produced a sample checklist to support with the visual inspections.
All data gathered from the fire door checks should be recorded electronically to provide a digital record of all fire door checks scheduled and undertaken.
Industry best practice
Although visual inspections of fire doors can help quickly identify obvious maintenance issues that need addressing, the role of fire door specialists and inspectors should not be overlooked. Suitably qualified and experienced fire door inspectors can conduct a thorough inspection which can highlight issues that may not be easily visible but could prevent the door performing as designed in the event of a fire.
Added to this, for very high-frequency areas, where fire doors are more susceptible to damage, best practice recommends that they are inspected more frequently. This should be based on the door's usage and could require checks as regularly as each week or each month.
Fire door safety
Evolving fire safety legislation seeks to highlight and protect the crucial role that fire doors play in saving lives. It's vital for those responsible for maintaining a building to fully understand their roles and responsibilities when maintaining fire doors, and to seek expert support and guidance to fulfil their obligations.
Through the BWF and the BWF Fire Door Alliance a wide range of guidance and advice materials can provide insight and further detail. For more information visit: https://firedoors.bwf.org.uk/knowledge-centre/fire-door-inspection-maintenance/
Kevin Underwood is technical director at the British Woodworking Federation (BWF)