Speaking to FM Director during the initial stages of his appointment as Thermatic Technical FM managing director, Mr Prady states that he is delighted with his new role and knew that he would have regretted not seizing the opportunity. "It's a company that I've known and been impressed with for quite a while, it's based in Manchester, my hometown, and has lots of technical self-delivery capability with so much ambition, so it's a great fit," he says.
Having started work as a building service engineer with Ellesmere Engineering in 2004, his career has progressed at an impressive rate and provides further evidence of the many opportunities within the FM sector for those aiming to advance.
Mr Prady explains that the Thermatic business is well established, having been launched over 50 years ago. Over time the business model has evolved from project delivery to a predominately nationally focused Hard FM services business.
The company's involvement with the FM sector came about through its chairman Colin Tennent, who had previously worked for GSH prior to its acquisition by ISS.
"Thermatic provides hard services across the UK and to a number of sectors such as supermarkets, retail, healthcare, education and more. What I liked about Thermatic was its size and scale, still acting in the interests of an SME organisation but carrying an array of capabilities. I believe there's still a niche in the FM industry for a service provider with a true technical service offering."
"We've got more than 100 engineers operating across the UK and we're still privately owned," he continues. "It's also very rare to see the amount of in-house capability covering a wide spectrum of hard services alongside an in-house project management/design team. I've always wanted to go back and lead a reputable and sustainable SME business; Thermatic is a perfect fit as we look to strategically prepare our longer-term impact."
In addition to its HVAC, gas and electrical services, the company also includes drainage within its hard service offering. Mr Prady further states his belief that the FM sector "is crying out for a bit more strategic support" for both electrical and drainage services.
In addition to the numerous opportunities for growth within his company's extensive remit, he further states his enthusiasm for increased collaboration with sister company Thermatic Energy Services, which is led by managing director Jen Johnson. "Between the two brands, there's obviously a lot of collaborative options, as our customers need to manage their energy consumption and maintain an efficient portfolio of assets, so both of those needs fit in nicely with our remote monitoring capabilities."
Having worked for large businesses during his career to date, Mr Prady has been quick to appreciate the agility of Thermatic. "We're really competitive from a pricing point of view and the fact that we're privately owned gives us the fluidity we need to maintain and adapt to our customer's needs. We've got governance in place, of course, but if we need to adjust then it's generally a fairly quick process."
He sees more growth opportunities for the Thermatic business through major aims such as achieving net zero carbon emissions, which has grown in importance since the easing of the Coronavirus pandemic restrictions. "Every customer is quite rightly focusing on net zero and equally we can add immense value around that by providing sustainable services, but also implementing plans and tactics to make sure they achieve that."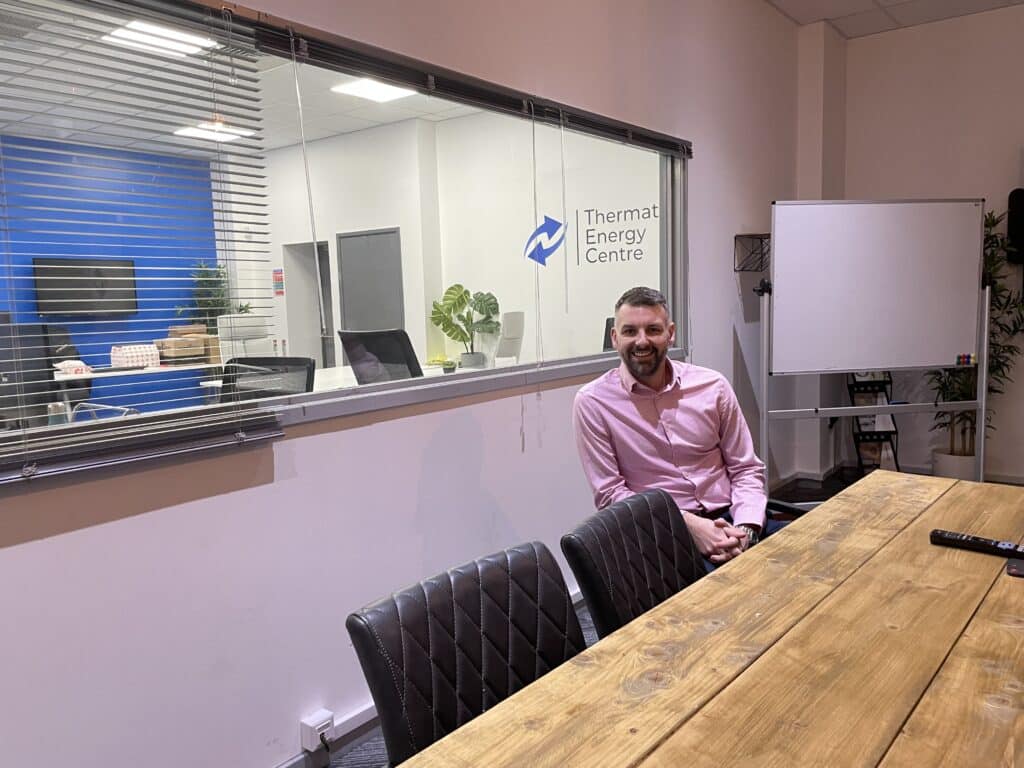 He further explains that the considerable depth of expertise within the Thermatic business means that it is easily able to provide guidance to clients both on how to manage systems and reduce energy consumption and on the most effective options available to them to achieve these aims. "So we think we've got a really strong offering and demonstrable capability to support our customers, whether that's traditional reactive and planned maintenance, predictive or capital replacement schemes," he says.
In addition to the wide range of options available to the company for increasing its business, Mr Prady states that he takes considerable comfort from its long-established customer base. A large proportion of its clients operate on a national basis, which has seen the company increase its work with clients as they have grown and extended their operations around the UK.
"We equally understand that clients don't always like to have a single-sourced approach, so some of our customers have a regional commitment. But the company has seen over the last three to five years that we've started working with several clients in specific regions and then seen this extended to other areas, when they've had chance to appreciate and gain confidence in our service delivery. That's been exceptionally strong in our ability to grow organically."
Another notable development this year has been the increased efforts of businesses, organisations and industry bodies to promote the FM industry to the education sector and provide a greater understanding of the many opportunities for future employment. While Mr Prady's career provides the ideal example of what can be achieved, Thermatic has additionally established an in-house training academy at its Manchester base that is also helping to drive this message.
"Since I started with the business, I've already seen a number of schools use the academy, talking to people here and getting an idea of what this industry looks and feels like. That's clearly something we want to continue and make sure that people get the most out of the experience."
There are several benefits from running the training academy, Mr Prady continues, and states that helping to raise awareness of the FM industry is one of these. "Outside of FM not many people know what it is and it's still a little bit of a dark industry to people in schools and colleges. So I think we have a moral responsibility to make sure FM is on the agenda."
Another positive aspect of the company is the passion and enthusiasm displayed by many of his colleagues and Mr Prady feels that one of the few adjustments required is "a simplified strategic plan". This will be aimed at explaining to all his colleagues how their input is both appreciated by the company and essentially how their contributions meet the expectations of its clients.
"I get a lot of pleasure in defining the strategy and tactics alongside the senior management team and deploying that to the rest of our colleagues, which will help to make sure they understand what's needed but also ensure they have an input, as well. There's a lot of happy and enthusiastic people here, so I think if we can help provide a little more direction, the business will be in an even better place."
While business growth is desirable for every company, Mr Prady is also aware of the need to manage any expansion to avoid losing sight of the core values. Having seen how organisations can extend through the merger and acquisition route, he further states that this may be an option for Thermatic in the future, although any organisations it merges with will need to conform with the company's values and culture.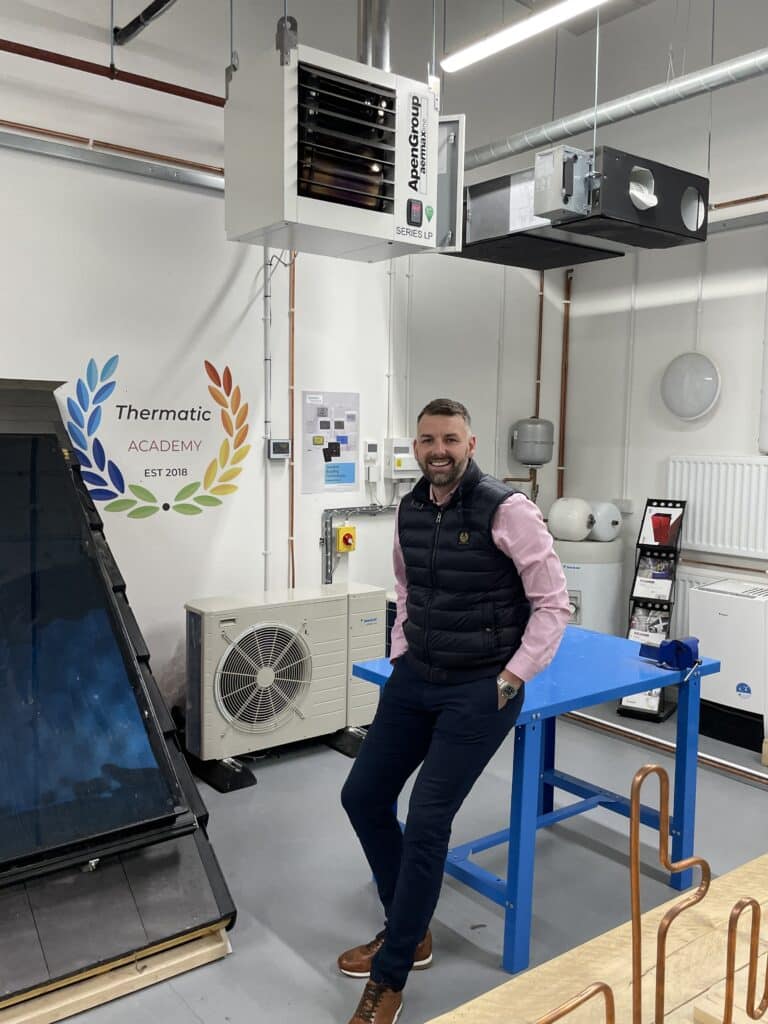 "We're very much a hard services provider and we don't want to jeopardise what differentiates our people, processes and culture," he continues. "We recognise that we are a sectorised business, even though I think our services can easily transform into other sectors, it's important we continue to maximise our strengths in a balanced way.
"It's about talking to our customers and seeing where we can add value to their estate and expand our services in line with our current capability, but our immediate mission is to ensure our current customers recognise our wider offering."
Mr Prady was preparing to meet as many of his company's customers as possible as this issue of FM Director went to press, with a view to gaining more understanding of their current and future requirements.
"I'll be out meeting all our teams and hearing how they work with clients and also meeting with our customers to make sure they know who I am and, equally, gain more intelligence to help with decisions in future."
These efforts are seen as highly valuable in assisting Mr Prady's collaboration with the company's senior management team to establish its strategy for the future, which is due to be confirmed early in 2023. Despite only being in his role a short tenure, he felt that considerable progress had already been made and emphasised the positive connotations this had for the future.
"Our plans will essentially map out the areas we want to focus on, such as our health and safety and wellbeing culture, delivering efficiencies and maximising the potential of our people and aligning this with an organic growth strategy," says Mr Prady.
This year has seen the doubling of efforts by companies and industry organisations to engage with schools and colleges to promote the many options for employment within the FM industry, following numerous reports of the difficulties faced by FMs and service providers in recruiting sufficient numbers of people. Those wishing to employ skilled members of staff have an even greater challenge, of course, but the example provided by Mr Prady and other senior leaders in the FM sector shows the many genuine opportunities available to learn new skills and apply them effectively within careers that continue to exceed expectations for job satisfaction.